Flip Of The Day #48: PLAY Comme des Garcons BRAND (shirt + shoes)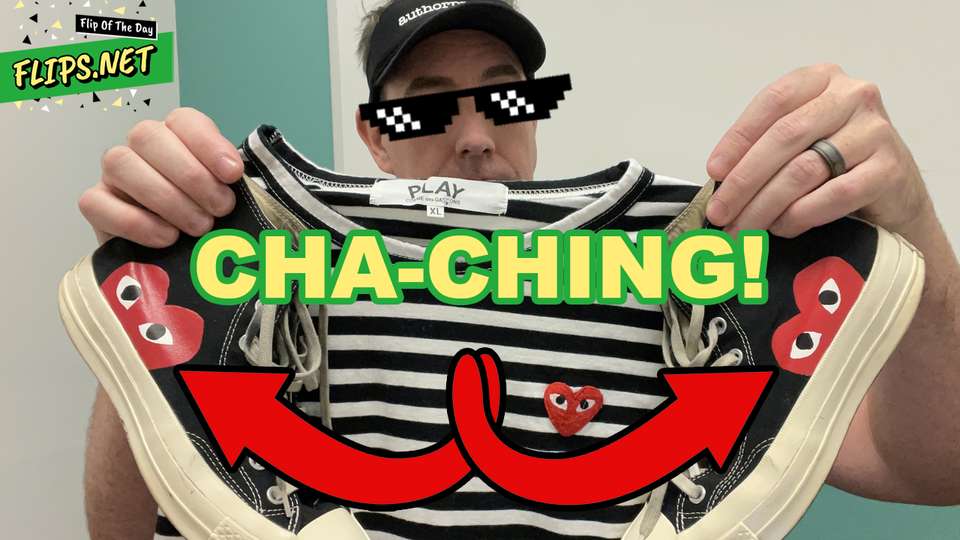 When I am looking for things to FLIP on eBay, I commonly look for things that I have NOT seen before as well as for things that are clearly PREMIUM or HIGH QUALITY. Items like this, in my experience, have a better chance of being good to RESELL.
So when I saw this shirt at an estate sale (for just $1) and it was from a brand (PLAY Comme des Garcons) that I had not seen before and the quality of the shirt appeared to be premium, I used the Google Lens app and the eBay app to identify the item and look up prices online.
And I was pleasantly surprised to see that this shirt sells on eBay for OVER $100!
But there is a SECOND LESSON in this FLIP example and that is to keep track of and REMEMBER these brands so that you can SAVE TIME the next time that you see them. If I see another product that has this little red heart character on it, I know that it's likely that it will be a good item to FLIP for a profit.
And that's exactly what happened a few weeks later at a thrift store! I found a pair of special edition PLAY Comme des Garcons Converse sneakers for just $7.49 that also  sell on eBay for OVER $100!
So if you see ANYTHING with the little red heart guy (or the brand PLAY Comme des Garcons), be sure to check it using the eBay app to see if you can FLIP it for a profit online.

https://www.instagram.com/flipsnet/